Discover more from The Pondering of an Artist
A blog about my observations and pondering in the natural world. Naturally curious about my surroundings, nature, local folklore and traditions that inspire my artwork. Happily pursuing and sharing the simple things in life that bring me calm & joy. 💜
"Every leaf speaks bliss to me, fluttering from the autumn tree."

- Emily Brontë
---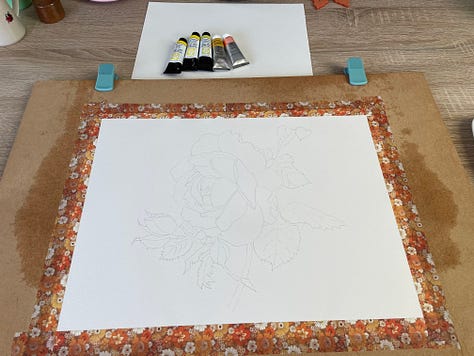 ---
Join me in my latest video for a wander through the woods, I've left you a link below but don't go anywhere just yet, please read on my lovely reader.
Being at peace under the canopies of the lovely tall trees, a mixture of pine, oak and beech. Audrey, my Norfolk terrier and I walk along the gravel paths through the changing flora and fauna where we spot lots of wildlife living in harmony with nature. There's an abundance of food to forage, blackberries, sloes and mushrooms, amongst the few. I wouldn't pick the mushrooms as I haven't got a clue what I'm doing, but I do love to spot them hiding by mossy tree trunks and under fallen leaves, taking photos to use later in my art studio.
My next blog will be all about mushrooms 🍄 which you'll be able to read about over on my website, I aim to publish it the first week of October which gives you plenty of time to head over there and explore, where you'll find extra content and my shop where I sell my artwork and greeting cards.
You can leave your email so you'll never miss a post or the exciting artwork I have for sale in my shop.
So back to my video…I share with you my latest project, painting a yellow rose, it has its challenges, but I have been asked to paint it for a commission. I started by painting a practice rose featured above. The reason for this is that painting with yellow can be troublesome. Getting the shading right is the tough part as usually I would use a grey or a more neutral paint, however, as I have discovered, mixing grey and yellow just gives a nice shade of green! Fabulous! As a self taught artist, I am still learning. I discovered a wonderful artist a few years ago, who has helped me on my journey and has the solutions for painting with yellow. You can find Anna Mason on YouTube and she has her own online art school.
So, just a quick mid-week post for you, now it's safe to click on the link below, but first grab a cup of tea and sit back for just a few minutes peace and quiet. One thing I ask - please click on the like button and subscribe to my channel as it makes me happy and a happy artist is a creative artist…just saying. 😋 Oh and yes, I do love an emoji. 🥰
---
Woodland Walk, Autumn Inspiration & Painting a Yellow Rose
---
See you for my next post all about mushrooms which are magic.
Stay naturally curious, we live on an amazing planet.
Clare xx 🍄🍁🧡